waser iPM's mission is to support Financial Services Companies in their journey to a resourceful, effective and profitable 360º customer experience
Methodology – Comprehensive and methodical support in your firm's Customer Experience Management initiatives, based on G-CEM and the CXM360 Framework (assessments, workshops, bootstrap approach)
Consulting and Coaching – Consulting and support in benchmarking, planning, tenders (RFI / RFP) as well as in selection and solution design of Omni Channel Digital Architectures and Platforms, including Proof of Concept (POC) work
Project Management – Project Assessment, Project Office and Project Lead with execution of your Omni Channel Digital Platform initiative
Integration & Customisation – Software and Platform Configuration, Agile Software Development for Digital Banking Platforms, Integration of 3rd Party Solutions including Core Banking, CRM, Analytics and DWH
Download the CXM360 Customer Experience Management Brochure in German: CXM360_waserIPM_Flyer3_D.
We are a Backbase Business Partner for Switzerland and Liechtenstein. Download the Digital Banking Platform Services Brochure for further information in German: CXM360_Backbase_Flyer2_D or in English: CXM360_Backbase_Flyer2_E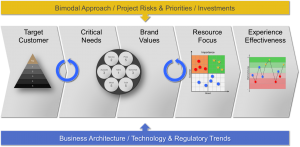 waser iPM CXM360 Framework
---
for banks and financial services providers, what are your top worries today?
Who will be our customers in five years from now and what are their expectations?
How do we adjust our understanding of market segmentation in this digital transformation?
What skills and competencies and what tooling do we need to cope and how do we prioritize?
Which business models in which eco-system work for us in order to secure our profitability?
Who are our competitors today and in three to five years from now? Who will be the leaders?
Well, Here are some thoughts:
Your current customers may or may not be your future ones – for certain, their needs and expectations will be vastly different
The digitization enables and rapidly evolves a segment of one
Understand your customers, embrace agility, foster courage, fail fast and smart
Your competitors will come from different industries and backgrounds, not just banking
The future will face competition of highly dynamic eco systems rather than individual firms
---
The 

CXM360 Framework for a 360º Customer Experience Management
A customer centric, 'outside in' paradigm involving multiple relevant touchpoints, channels, attributes and sub-processes is pivotal
Adjusting the paradigm will challenge, align and industrialize your entire business process architecture, front-to-back
Customer experience management projects are risky – secure profitability and manage priorities in your initiatives at all times
Challenge siloed views – align highly visible and less visible stakeholders (fintechs, partners, operations, etc.) for truly differentiating customer journeys
Embrace key technology trends in banking early on, including PSD2, GDPR, cybersecurity – they have long-term impact on your digital transformation
Engage in two speed (bimodal) architecture to remain both, explorative and predictive
---
For more information on CXM360 – the 360º Customer Experience Management approach – please contact us here:
waser iPM – results | delivered